Our Impact
Our impact on the Community
Le Fruit Houses
At Les Vergers Du Mékong, environmental and social responsibility is not a new concept or a recent practice.
Since 2000, we have built a sustainable fruit supply chain with local family-owned farms. We also invested on a program to integrate the smallholder farms into the Food Value Chain. We created three collecting and training centres - named as LE FRUIT HOME - in the Mekong Delta to collect fresh fruits with a complete traceability, to cooperate with farmers to preserve natural eco-systems and promote environmental agriculture certifications.
Direct trade
Our mission is to help sustain family farms and revitalize rural communities. We prioritize the collaborative relationships between the family farms and our business, offering stable prices and predictability in a volatile market.
We have always been looking for sustainable sourcing in a big way since 2000, contributing to small Vietnamese family-owned farms and the protection of farm workers from harmful pesticides. Our mission is to create higher benefits to the farmers, turning sustainable agriculture into a reality. We build long-termed and mutually beneficial commercial relations. We avoid intermediaries and have direct dealings with around two thousand small local growers.
=> 2000 FAMILY-OWNED FARMS work with us in Vietnam - We contracted (5y of sourcing) with 60 farmers (guava, calamansi, mulberry & coffee) - We are dealing directly with 40 Farmers (guava, calamansi, mulberry & coffee) - Our plan for 2020: 10 farmers: Pineapple / 10 farmers: Lime / 6 farmers carrots & beetroots etc …
Farmers support
At Les Vergers Du Mékong, local and sustainable farming is a way of life, not a marketing slogan. Our belief in local and sustainable farming is deeply rooted in our commitment to land stewardship that preserves the environment for future generations.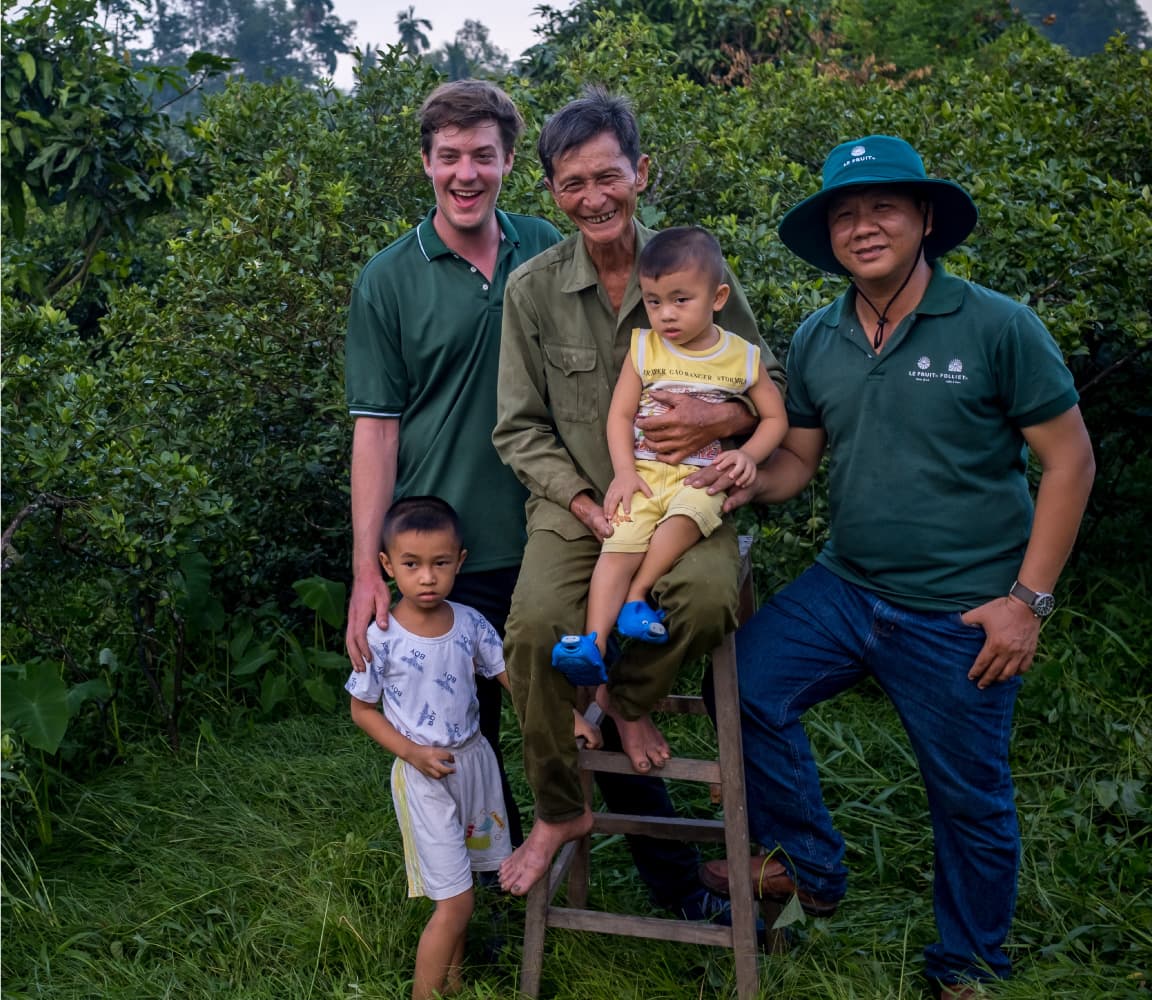 We provide support and training to educate the farmers to grow the fruits in a sustainable way, to avoid pesticide and to salvage organic fertiliser. Moreover, we assist the farmers to comply and certify for Global GAP certification (Good Agricultural Practices) a standard that stands for quality and integrity in sustainable agriculture. In 2018, more than one hundred and fifty farms have been trained on sustainable agriculture practices. We are proud to support a strong local, sustainable and small-scaled farms' agriculture. This close relationship helps us build a complete traceability to control the quality of the farm, the crop and the ingredients. 150 farmers were trained :
We have been following, supporting, helping FARMERS to monitor there farms since 2017 up to Now => For FSC: Farmer support is a continuous program to educate the farmers : For FSC point of view we don't educate farmers but support & help them to improve farming technics and reduce fruit agriculture footprint to reach our sustainability program.